Addressing the Issues of "Cannabis and Children"
Posted by Marijuana Doctors on 11/12/2014 in Medical Marijuana Research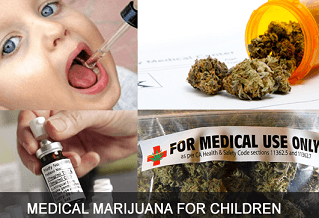 People like Nancy Grace constantly talk about the "children" as their scapegoat for keeping cannabis illegal. They believe that by legalizing cannabis, children will be smoking doobies on every corner; however, this couldn't be further from the truth.
These prohibitionists are essentially regurgitating information they "heard" but never investigated. There are in fact many studies that have been conducted that show that decriminalization or legalization has virtually no influence over an increase of teen substance abuse. Some evidence even suggests that legalizing will reduce child consumption.
Cannabis for Children
To merely say cannabis is bad for children would be a fallacy. In fact, many children use cannabis for medical purposes. To keep cannabis illegal would mean that these kids would once more be shown a world of pain and discomfort.
Children like Charlotte Figi and Mykayla Comstock use cannabis to treat conditions such as Dravet's Syndrome (Figi) and Leukemia (Comstock). Out of all the medicines, they tried, and they tried pharma first, only cannabis seemed to have any positive effects.
If we're talking about the children, then it should be pointed out that medical cannabis should be made available to children with qualifying conditions.
Regulation means less chance of kids getting it
Regulating cannabis will give us the opportunity to move it off the streets and into legal establishments. This means only adults would be able to consume recreationally. This means that if a minor wants to purchase cannabis from one of these stores, they would be carded immediately and refused service.
Unlike the dynamics of the street that tends to seek out children since they are easier targets than adults are.
When you regulate cannabis, you tax it. This means that with the revenue derived from legal cannabis sales you would be able to fund prevention and treatment centers for drug addiction, rehabilitation and youth programs. This money otherwise would have gone to cartels and drug dealers who would use it to create more product.
Finally, legal cannabis establishes a subconscious guideline for consumption. Currently, cannabis is considered "not suitable for anyone" according to the Federal government, this means that kids do not distinguish between "adult product" and product. Now, drugs are seen as "thrills and passive rebellion" by the child.
Once legalized, kids can distinguish that smoking cannabis is an "adult" activity, which provides a clearer depiction on "why they can't smoke yet."
Conclusion
I could carry on about this topic forever but I decided rather to leave you with three very powerful quotes from some real studies conducted by panels of respected scientists/doctors.
STUDIES
"In sum, there is little evidence that decriminalization of marijuana use necessarily leads to a substantial increase in marijuana use." – National Academy of Sciences, Institute of Medicine (IOM)
"In contrast with marijuana use, rates of other illicit drug use among ER [emergency room] patients were substantially higher in states that did not decriminalize marijuana use. The lack of decriminalization might have encouraged greater use of drugs that are even more dangerous than marijuana."
– K. Model. 1993. The effect of marijuana decriminalization on hospital emergency room episodes: 1975-1978. Journal of the American Statistical Association 88: 737-747, "Levels of use tended to be higher in the decriminalization states both before and after the changes in law. [S]tates which moderated penalties after 1974 (essentially a group of decriminalization states) did indeed experience an increase in rates of marijuana use, among both adolescents (age 12-17) and adults (18 or older). However, the increase in marijuana use was even greater in other states and the largest proportionate increase occurred in those states with the most severe penalties."
– W. Saveland and D. Bray. 1980. American Trends in Cannabis Use Among States with Different Changing Legal Regimes. Bureau of Tobacco Control and Biometrics, Health and Welfare