Prices of Medical Marijuana in Illinois Expected to Rise Sharply
Posted by Marijuana Doctors on 09/02/2014 in Medical Marijuana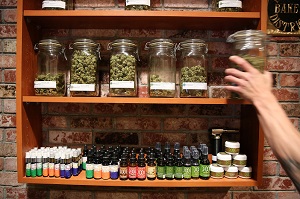 Location: Chicago, Illinois | Source: Chicago Tribune
Chicago, Illinois – When the state of Illinois opens up its first dispensaries later this year, future patient Jim Champion plans to have his wife document the historic event for him to hold onto forever. "It'll be like going to the candy store for his birthday," Champion's wife, Sandy said when expressing her husband's relief after a long battle fighting for an effective form of treatment for his multiple sclerosis.
Mr. Champion who is a military veteran from Somonauk in north central Illinois says that he currently uses cannabis to help alleviate his suffering. Sadly when going to his version of an adult candy store Champion should expect to bring a lot of cold hard cash. Sadly Illinois' medical marijuana law does not require that health insurances cover any cost associated with obtaining, using, or possessing medical cannabis. Additionally, most major credit card companies will not process transactions on behalf of cannabis businesses, meaning that many safe access providers cannot accept any form of credit. The ultimate result is that most if not all of Illinois' dispensaries will initially be cash only businesses when the open their doors to patients later this year.
This inherent push toward cash only transactions might possibly have negative consequences for patients in Illinois who already find it increasingly hard to pay for the rising cost of medical care. Because the price of medical marijuana will not be regulated by the state or statutes many experts believe medical cannabis prices in Illinois may rival those currently seen by illegal users across the state, which according to local law enforcement can rise above $400 an ounce.
The combined structure of Illinois' medical marijuana program and its restrictive nature have experts in the cannabis industry forecasting Illinois to possibly have the most expensive medical cannabis in the country. High application and start up fees, taxes, and state associated investments costs are all factors that state advocates will cause the price of cannabis to increase. Because only 60 dispensaries will be permitted across the state there is expected to be little if any free-market pressure to keep costs and ultimately prices down.
One of the believed reasons for the rise in pricing comes from the high costs businesses face when starting up. The state currently requires a $25,000 application fee and a separate $200,000 permit fee for cultivation facilities and a $5,000 application fee and $400,000 in liquid assets for those parties interested in opening one of the 60 statewide dispensaries. Inventory management, tracking, and security systems are expected to add huge additional costs to businesses start up costs. Also lab testing for each batch of medical cannabis produced is required and around the clock streaming footage must be stored for up to 6-months. While the state has permitted 60 dispensing locations it has only approved 21 cultivation centers, far fewer than those seen in many other states. This small number of cultivation facilities is expected to limit state supply and competition.
According to legislative analyst for the Marijuana Policy Project, Chris Lindsey,  "It's going to be a seller's market, The costs to cultivate and run a dispensary are very high, and all these things are going to drive up prices."
Consumers can expect to see a 7% wholesale tax and a 1% retail tax, in addition to any local taxes that may eventually be implemented. Patients who are granted permission to buy and use medical marijuana will not be able to consume it in public, drive under its influence, and must keep the drug in a locked, sealed container when transporting it. In order to qualify under the Illinois medical marijuana program patients must suffer from at least one condition on a very specific list of three dozen ailments.
Patients wishing to obtain access to the state program must receive a written recommendation from their attending physician, submit their fingerprints and pass a felony background check. These hoops ones that some patients say they will not jump through because they don't want to give up private information such as social security disability pension information.
This underlying apprehension by some potential patients may also limit demand and make it even more difficult for new entrepreneurs to recoup their initial start up costs.
In a statement to the Chicago Tribune, Blue Cross Blue Shield of Illinois stated it will not be covering medical marijuana due to the fact the U.S. Drug Enforcement Administration still classifies marijuana as a schedule 1 substance with no medical value. Should the federal government legalize marijuana it still does not mean that the insurance company would begin covering its costs, "We don't cover scotch and vodka either" said BCBS spokesman Mike Deering, "It would have to be clinically validated through trials and some clinical testing to indicate that, in fact, there is a clinical efficacy for marijuana to be applied to a certain condition or malady."
Cannabusiness owners in states where medical marijuana is legal argue that their regulated product, which has multiple methods of consumptions, is greatly superior in its effectiveness and safety when compared to street or synthetic drugs, the results they say, are well worth it. In Connecticut for example, where the first medical marijuana dispensaries will be opening later this month some business owners expect that the price of an ounce may rise above $500 initially. Angela D'Amico, one of the founders of Compassionate Care Center of Connecticut said that while medical cannabis may be expensive, it may be worth it. "You don't know what you're buying on the street. Everything we sell is tested. You know the exact amount of THC."
Seth Bock, the owner of Greenleaf Compassionate Care Center in Rhode Island was quoted as saying "Price will depend on supply and demand ratios, If those 21 growers can produce unlimited quantities, then I would expect there to be price wars."