Medical Marijuana for Pain Management
Posted by Marijuana Doctors on 06/18/2013 in Medical Marijuana Conditions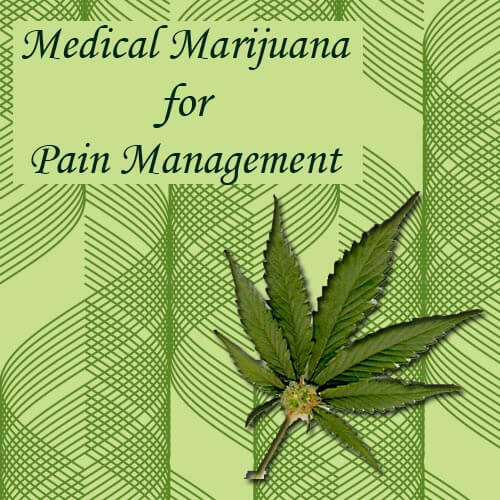 Most medical marijuana patients use cannabis for pain management. Statistically speaking 60% of all medical cannabis patients use cannabis for some sort of pain medication. In order to maximize the effectiveness of cannabis for pain management I have gone to the effort to provide you with some "best practices tips".
Indica over Sativa
For pain management you want to tap into the power of indica over sativa. Indica phenos will provide you with a more corporal sensation and works tremendously for pain. If you need a strain that will not give you "couch lock" then you'd want to look for some sort of Indica dominant Sativa cross breed.  A 60% Indica dominance will provide you with the right amount of pain relief and 40% sativa will give you the energy boost to get you through the day. Night time use; go 100% indica for a good night's sleep which is essential to the healing process.
Vaporize for Quick Relief, Eat for Long Lasting
Vaporizing cannabis will provide you with instant relief whereas eating it will provide you with long lasting effects. Vaporizing cannabis can only help "so much" until the pain threshold surpasses the ability of the curative properties. For severe chronic pain you want to consume it and have it linger within your system. A combination of both would also work quite well if you have spurts of pain throughout your day. You use the eatables as your base line pain medication while vaporizing will be when the pain reaches its peak point.
Toothaches
Now when it comes to toothaches and similar types of pains the aforementioned methods won't work as well. You would actually need a CBD rich strain as opposed to a THC rich strain. For toothaches the best practice would be to get a dominant non-psychoactive CBD strain that will let your pain disappear within minutes without getting "high".
Cannabis Teas
A tea is also a great alternative to pain since the warmth of the liquid assists in relaxing the body. With a bit of honey and other healing herbs you can make yourself a natural cocktail of curative powers to completely melt your pain away. If you can get raw coca leaves to mix with your cannabis you can create a powerful pain sedative with no risk of addiction, just natural organic pain relief.
Cannabis is a phenomenal plant that can be used for several different conditions and illnesses and it really comes down to how you prepare it. I hope that this small tutorial provided you with the insight necessary to deal with your own pain by using cannabis.