Connecticut Medical Marijuana: New Debilitating Medical Conditions Added to Improve Patient MMJ Access
Posted by Marijuana Doctors on 10/11/2016 in Medical Marijuana Laws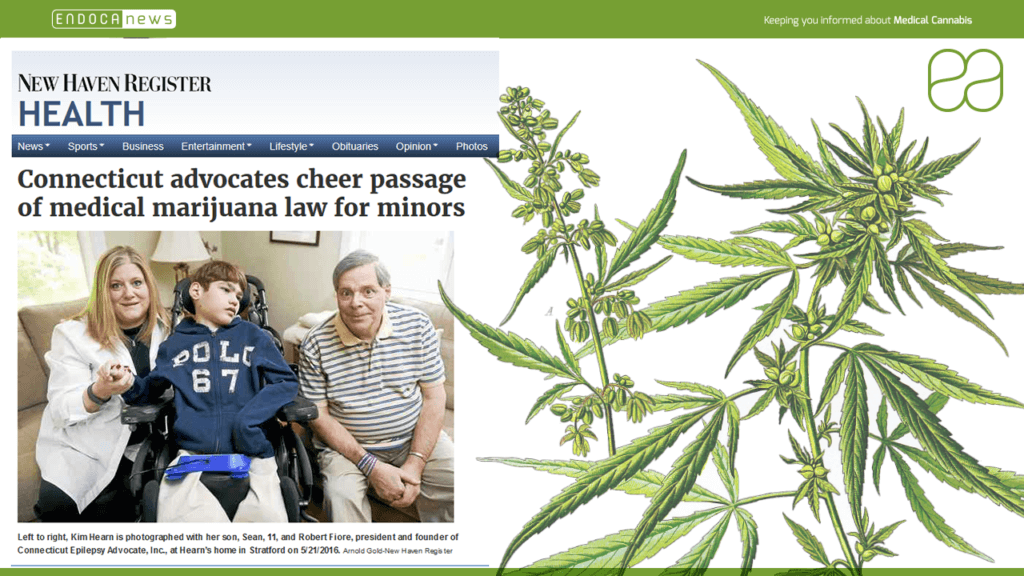 The Connecticut Medical Marijuana Program is available to patients with qualifying medical conditions, and these patients are required to register with the state so they avoid being penalized for the possession of marijuana. Multiple debilitating medication conditions that allow patients to register for a Connecticut medical marijuana card include:
Wasting Syndrome
Ulcerative Colitis
Parkinson's Disease
Cancer
Cachexia
Crohn's Disease
Complex Regional Pain Syndrome
Glaucoma
Positive Status for AIDS or HIV
Severe Psoriatic Arthritis or Psoriasis
Sickle Cell Disease
Amyotrophic Lateral Sclerosis
Post Laminectomy Syndrome with Chronic Radiculopathy
Post-Traumatic Stress Disorder
Damage to Spinal Cord Nervous Tissue along with Objective Neurological Indication of Intractable Spasticity
At the beginning of October, 2016, the state of Connecticut added new debilitating medical conditions to the state's list of qualifying conditions, in efforts to further improve and expand patient access to medical marijuana.
The purpose of this article is to take a closer look at the medical ailments added, and the research that supports the use of medical marijuana for these conditions.
Cerebral Palsy
Cerebral palsy was added to the list of new debilitating medical conditions for which patients in Connecticut can use marijuana, both for adults and children. An incurable brain development disorder, cerebral palsy causes many symptoms, such as problems controlling movement, exaggerated reflexes, changes in muscle tone, and more. Developmental impairments, sleep problems, pain, and incontinence are all very common in these patients. Studies have shown that medical marijuana is often helpful for patients with cerebral palsy, and it's particularly useful for controlling pain.
Irreversible Spinal Cord Injury with Objective Neurological Indication of Intractable Spasticity
Adult and pediatric patients with irreversible spinal cord injuries that come with intractable spasticity can also get a Connecticut cannabis card under the new laws. Spinal cord injuries have the ability to have devastating, permanent effects on patients, and medical marijuana offers an alternative treatment for patients who deal with the unpleasant and relentless symptoms that come with problems, such as sleep disturbances, pain, difficulty walking, infections, pressure ulcers, and more. Marijuana has been shown to treat pain, insomnia, and spasticity in spinal cord injury patients effectively, providing an incredible diversity of symptom relief to these patients.
Cystic Fibrosis
For adult and pediatric patients with cystic fibrosis, medical marijuana is now approved in Connecticut. There's no cure for cystic fibrosis, but marijuana offers a number of benefits to patients of every age. Some of the most common symptoms of cystic fibrosis include shortness of breath, sinus pain, fever, wheezing, loss of appetite, and coughing. Marijuana can help patients manage their pain, and endocannabinoids also help to reduce the coughing and accompanying irritation that CF patients often experience. Since CF patients often deal with loss of appetite and nausea that's a result of coughing excessively, cannabis often helps to reduce nausea and increase their appetite, preventing malnutrition problems.
Uncontrolled Intractable Seizure Disorder
Uncontrolled intractable seizure disorder is now on the list of approved debilitating medical conditions in Connecticut for adults and children. For children, severe epilepsy has also been added to the list as well, a condition that was already approved for adult patients. Marijuana has been shown to provide significant medical benefits to patients with uncontrolled epilepsy and uncontrolled intractable seizure disorder. Anecdotal evidence has shown the effectiveness of marijuana treatments, such as Charlotte's Web, and the drug Epidiolex, an investigational drug with CBD, already shows promise in trials.
Terminal Illness That Requires End-of-Life Care
Any terminal illness that requires end-of-life care is now included on the list of approved debilitating medication conditions within the state of Connecticut. Terminal illnesses include any illness that will eventually result in death, and unfortunately, these illnesses often come with severe symptoms, such as loss of appetite, nausea, depression, severe pain, and more. Marijuana offers the ability to relieve these symptoms, and while it won't cure a terminal illness, it can help keep patients more comfortable and even aid in sleep. While cancer was already on the list of debilitating medical conditions for which patients can take Connecticut marijuana, other terminal illnesses are now covered under the law, offering relief for patients who want to live out the rest of their lives in relative comfort.
If you have one of the debilitating medical conditions that have now been added to the list of qualifying conditions in Connecticut, you may want to consider using cannabis to therapeutically treat your needs. To become a Connecticut medical marijuana patient and get a Connecticut medical marijuana card, visit MarijuanaDoctors.com to get started and see a Connecticut medical marijuana doctor today.