Children Using Cannabis to Successfully Control Seizures
Posted by Marijuana Doctors on 10/14/2016 in Medical Marijuana Conditions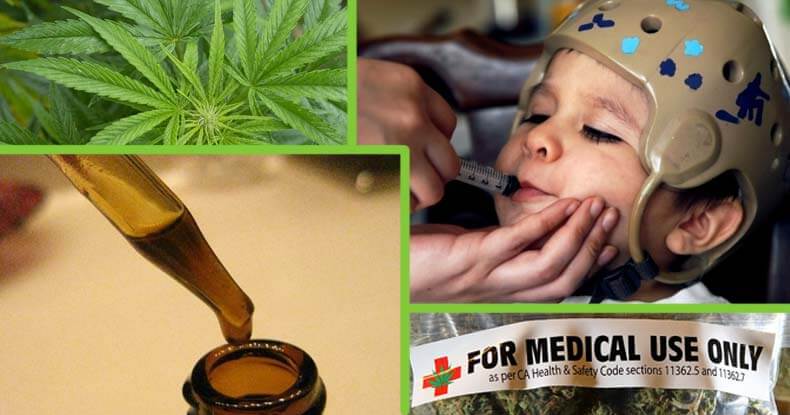 Unlike the extensive number of seizure medications pharmaceutically available, marijuana is a safer and more effective treatment for controlling seizures. Currently Carbamazepine (Tegretol), valporic acid (Depakote), lamotrigine (Lamictal) and topiramate (Topamax) are all medications commonly used to control seizures. The list of side effects caused by these medications used to treat seizures is a long one, and each comes with its own set of potential risks and dangers, and for those who must take them daily to prevent seizures, those potential dangers often become inescapable and debilitating realities. While many are deemed are too dangerous to administer to young children, leaving families to look to marijuana treatment as a possible means to successfully control epilepsy in children.
A Comparison of Side Effects
The most common seizure medication worldwide is phenytoin, known by the brand name Dilantin. It's even on the World Health Organization's List of Essential Medicines. Dilantin is one of the epilepsy drugs most commonly prescribed for children. Its list of less harmful side effects include loss of appetite, nausea, stomach pain, increased hair growth, itching, gum enlargement and coarsening of facial features.
More harmful side effects can include liver damage, low blood pressure, and toxic epidermal necrolysis. At toxic levels, cerebellar ataxia, tremors, slurred speech and double vision can occur. With extended use, phenytoin can accumulate in the cerebral cortex, causing atrophy of the cerebellum.  The patient can also develop aplastic anemia, hypertrichosis, Stevens-Johnson syndrome or drug-induced Lupus. Increased seizures can also occur if the medication is stopped abruptly.
There is new evidence, as well as evidence dating back as far as 1843, that seizures including those of epilepsy can be successfully treated with cannabis, without the harmful side effects.  In Colorado, where legal restrictions have been removed, researchers are finally able to study and document new types of treatment.  Currently, more than 180 children, many of whom suffer extreme seizures, are being treated with a special strain of medical cannabis.  The results are nothing short of miraculous.
In a recent 12-week study, researchers treated 162 children with epilepsy with cannabidiol (CBD), a cannabinoid extracted from marijuana, along with their existing medications.  Cannabis CBD does not pose the risks for addiction or cognitive impairment, and studies have shown it to be effective as an anticonvulsant, in addition to having potential antipsychotic properties. The results of the study showed that marijuana reduced seizures in children by approximately 36.5 percent, the same rate as the participants' existing medications.  Further, 2 percent of patients became seizure free.  The only reported side effects were sleepiness, diarrhea and fatigue.
A 2015 study conducted by the University of Colorado reported that 47 percent of families who moved to Colorado specifically to obtain CBD oil cannabis treatment for epilepsy reported improvement.  Yet even with such encouraging results, the use of medical marijuana to treat seizures in children remains illegal in many states.
Obstacles to Research and Treatment
Companies that manufacture seizure medications stand to lose a substantial amount in profits if the use of cannabis as an alternative treatment is legalized nationally.  Pfizer, the company that  manufactures the seizure medication Dilantin, has already been accused of price gouging.  Britain's National Health Service's annual expenditure for the drug, used by more than 50,000 of its citizens, increased from $3.6 million to over $77.5 million in 2013.
In the U.S. their list of campaign contributions to political candidates is even longer than the list of side effects of Dilantin, and 48 of the 69 lobbyists that now work for Pfizer previously held government jobs.  In addition to lobbyists, Pfizer has also contributed to a research grant for Dr. A. Eden Evins, an associate professor at Harvard Medical School who is on the board of an anti-marijuana advocacy group and has served as a consultant for the company in the past.
Columbia University's Dr. Herbert Kleber is also a former paid consultant for the pharmaceutical industry, including Purdue Pharma, which manufactures OxyContin. Ironically, he warns against the use of marijuana, stressing that it is highly addictive, and as such, poses a serious public health issue.  Phenobarbital, a highly addictive substance, is still one of the most common medications used for treating seizures in young children.  Withdrawal from the drug can trigger even more severe seizures, and side effects include dizziness, depression, and suicidal ideation.
Legalization Efforts
Pharmaceutical companies may be powerful, but increasingly, they are proving to be no match for mothers who have begun organizing on behalf of their children.  Moms for Medical Marijuana is just one of a growing number of organizations advocating for legalization and further research into the medicinal benefits of cannabis.  Hope may be on the horizon for children suffering Dravet's syndrome, cancer, autism, and a number of other painful conditions in addition to epilepsy.  Even the American Academy of Pediatrics now supports scientific research of the potential medicinal benefits of cannabis, although it still opposes the legalization of marijuana.
The lack of harmful side effects is reason enough to support further research, as well as any discoveries that make it easier for physicians to keep the sacred oath to do no harm.
Speak to a marijuana doctor to see if cannabis is the right treatment to help control your seizures or those of your loved one, visit MarijuanaDoctors.com today for more information.