Caregiver-Patient Connection Sites: Operating in a Gray Zone
Posted by Marijuana Doctors on 05/12/2014 in Medical Marijuana News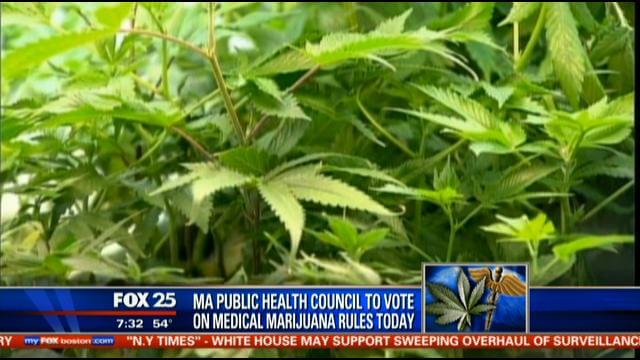 Wednesday evening, 31-year-old Janeen drove her Subaru wagon into the back of a hotel parking lot to pick up marijuana from a man she'd only known as "Kool Guy," a man with short hair and glasses awaiting her arrival. Janeen had taken out $250 in cash in preparation for the deal. Receiving an ounce of Blue Cheese hybrid strain marijuana and four chocolate and caramel THC laced candies; the transaction was pulled off smoothly. Recalling the experience, Janeen said, "The first time we met, I was nervous."
If this sounds to you like a black market drug deal, that's because little separates this instance from just that. Janeen was connected to "Kool Guy" through a website that designates caregivers to legal medical marijuana patients nationwide. Upon Janeen's fourth trip to purchase the marijuana, she brought with her the 97-year-old woman she has been caring for.
Caregivers like "Kool Guy" have, within the past year and a half, jumped on the caregiving bandwagon just in time for the burgeoning medical marijuana industry. Massachusetts lawmakers, legislators and health officials have been largely absorbed in licensing brick-and-mortar dispensaries, while entrepreneurs such as "Kool Guy" have been steadily selling mass quantities of just about any and every strain they are able to get their hands on. Sales of strains ranging from hybrid Jack the Ripper to the ever popular sativa Sour diesel are being solidified on the internet. And though these sales are all legal, with no regulation or surveillance system, the familiar gray area regarding the medical marijuana industry seems to be clouding the caregiving circuit once again.
While caregivers are, under the law, only supporsed to supply medicine to one patient at a time, patients, caregivers and even law enforcement officials have openly admitted that the rules are not only unclear, but remain more or less open to interpretation. Patients such as Janeen insist that they are following all laws and regulations provided by the state. And while the state Department of Public Health previously set out guidelines for law enforcement to follow back in March, Reading Police Chief James Cormier has said that most questions remain unanswered. Cormier said, "We are in a big state of confusion right now. What we need is a clear definition of what is a caregiver."
Under the Massachusetts Marijuana Compliance website, detailed instructions are written out for individuals hoping to become licensed caregivers. The steps listed are far more intricate than finding a match on a website. A patient seeking to use a certain caregiver must send a letter to the Department of Public Health with the designated caregiver's name, address and date of birth. Both the patient and caregiver should have copies of the doctor's certification, the letter, application and return receipt. Whenever the caregiver possesses medicinal cannabis, all of the above documents should be with them.
With the rise in websites connecting patients with caregivers, caregivers are taking on multiple patients at once. After declining to be interviewed and not answering several questions sent in by a spokesperson regarding the massive influx of online caregivers and their multiple customer violation, the director of the health department's medical marijuana program, Karen van Unen, released a statement , saying: "The Department actively cooperates with law enforcement when there are concerns about violations of these regulations, and is developing an online system which will provide law enforcement with real-time access to patient and caregiver registration, and will improve officials' ability to monitor compliance."
Beyond the caregiving issue, is the looming fear that state regulations have called for too high a dosage. Clinician-investigator at Boston Medical Center and professor at Boston University Schools of Medicine and Public Health, Dr. Tim Naimi said, "Massachusetts is a medical Mecca, and as such, we deserve to have one of the safest, if not the safest, medical marijuana program in the country, not one of the more dangerous ones."
Dr. Naimi is referring to the state's extraordinarily high medical marijuana possession limit: 10 ounces of medical grade marijuana every 60 days. On average, experts have said, this equates to smoking 12 joints per day.
Since its medical legalization in November of 2012, approval has been granted to 20 different dispensaries, however, licenses have been postponed due to possible misrepresentations made by the brick-and-mortar locations on their preliminary applications. For this reason, internet sites linking patients with caregivers almost instantly have become wildly popular. Patients who have received physician given certificates to acquire their medicine for a number of different debilitating conditions remain at a loss with delayed dispensary openings. In the meantime, eager caregivers and suppliers await patient requests on sites such as marijuana-caregiver.com.
Through sites such as these, patients are able to find caregivers and vise-versa through website forums. Further arrangements regarding e-mailing, texting and calling one another can then be made. On this site, patients can go on to rate caregivers, and caregivers can post about up and coming deliveries they'll be making in Massachusetts. While many of these forums offer specially cultivated marijuana for state-licensed patients only, several caregivers boast their deals and strains and make plans to drive out to certain locations for a pre-arranged fee. Trades, deals and edible giveaways are sprinkled throughout the patient-caregiver forums. In an effort to conceal his identity, "Kool Guy" himself said, "I don't think I'm breaking the law. You have to fill the void with something and that's what we're doing right now. When the dispensaries open up, we are going to dwindle away."
Currently, "Kool Guy" caters to about 20 different patients. While he grows a small amount of marijuana himself, he mainly relies on other caregivers to help meet the increasing demand of his many patients. Typically, he will meet patients in department store parking lots or near the multi million-dollar houses in Boston's suburbs. Whichever his patients prefer, Kool Guy says. "I feel bad for these people," he added, describing the majority of his patients as middle-aged and suffering from a number of debilitating conditions ranging from AIDS and cancer to Parkinson's disease and anxiety.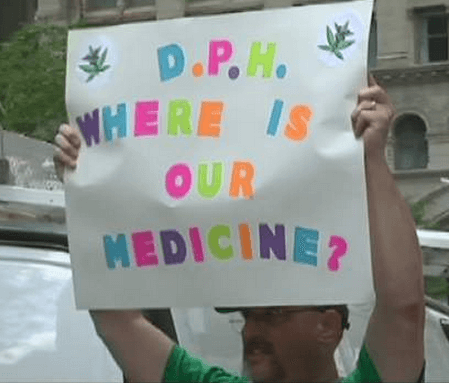 Above: Protestors hold up signs asking the Department of Public Health where the medicine they are legally entitled to is, and why they haven't been able to recieve it yet. 
Another caregiver who frequently posts on marijuana-caregiver.com is a member of a cooperative comprised of just a small group of military veterans who cultivate cannabis for their own medical needs, and then deliver from their surplus to other patients in need.
"We started out as patients and it wasn't available, or what was available was steeply overpriced or black market," he said. "You are not doing it for profit, you are doing it to help people," said the caregiver, adding that he only asks for "donations" from patients he helps to help cover the expense of cultivation.
Tom Brandes, the administrator of marijuana-caregiver.com said he launched the site several years ago to help patients seeking medical cannabis in Arizona when it first became legal. The site's expansion spans all legal states with background info for patients and caregivers seeking to become involved. Patients and caregivers alike are not charged any fees to use the website and post in the forums. "I'm not going to try to police it; I can't," said Brandes, adding that keeping drug dealers from posting on the site is nearly impossible.
Bill Downing, an activist and owner of Yankee Care Givers, a caregiving connection service said in a telephone interview that he is unlike all other caregivers who list their services on these sites. "I'm the only actual caregiver," said Downing. "Those guys are drug dealers." What sets him apart, 55-year-old Downing says, is that he sends in signed forms by each one of his patients to the Department of Public Health. What the department does with these forms once they are sent in, Downing says, is anyone's guess.
Reading Police Chief James Cormier has said, "I am frustrated with the DPH. I believe that there's a potential loophole in terms of the so-called caregiver exception that is being exploited. The frustration comes because we need DPH to give us an opinion in writing and we have not received it."
Executive director of the Massachusetts Patient Advocacy Aliance, Matthew Allen, has said that he receives phone calls from patients daily seeking to be connected with caregivers, however, the organization he runs cannot assist patients in need because there is no system set in place guaranteeing that services are both reliable and state-law compliant. "We do want caregivers to offer this service, staying within the boundaries of the law," said Allen. "But this regulation makes it impossible to do that even for those with the best intentions."
For now, and perhaps for an indefinite amount of time, patients must sit with the option of awaiting dispensaries arrival and postponing their healthcare, or taking the bull by the horns and acquiring their medication by way of caregivers, certified or not. Until a fully comprehensive program surrounding medical marijuana can be formed in Massachusetts, encompassing brick-and-mortar dispensaries, caregivers and foremost – patients, individuals wielding marijuana recommendations will continue to purchase their medication at their easiest convenience, whatever that may be.