Cannabis as a Potential Treatment for PTSD Symptoms
Posted by Marijuana Doctors on 09/06/2016 in Medical Marijuana Conditions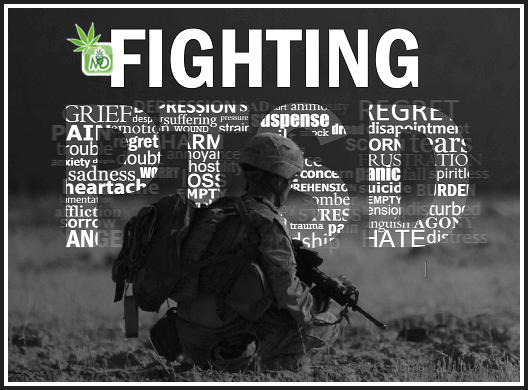 With half of the states in the United States now having legalizaed medical marijuana, more and more people are vouching for the use of marijuana to treat medical conditions, including veterans who have already been relying on marijuana to relieve or eliminate their symptoms of Post-Traumatic Stress Disorder (PTSD), for decades.
In the past, many cannabis doctors were reluctant to recommend medical marijuana to patients suffering from PTSD due to the lack of studies demonstrating the effectiveness of cannabis as a treatment. However, in the past few years, many studies have provided the necessary evidence for medical cannabis doctors to feel more confident and comfortable recommending medical marijuana.
What Is PTSD?
Post-traumatic stress disorder (PTSD) refers to a mental condition that an individual can develop after witnessing or experiencing a very traumatic event. Usually, individuals with PTSD will experience nightmares, flashbacks, uncontrollable thoughts about the traumatic event, and severe anxiety. These individuals may feel anxious and stressed even in moments where no real danger exists. The National Institute of Mental Health states that other PTSD symptoms include feeling guilt or emotional numbness, having problems falling or staying asleep, experiencing emotional outbursts, losing interest in previously enjoyed hobbies, and staying away from triggers for the traumatic experience.
While PTSD is most common in veterans of the military, it can occur after any traumatic event, such as a rape, assault, kidnapping, natural disaster, mugging, or car accident.
Physicians have traditionally recommended psychotherapy efforts to treat PTSD symptoms. Psychotherapy efforts can include cognitive restructuring, stress inoculation training, and exposure training. The purpose of psychotherapy is to help patients become more comfortable with potential triggers, make sense of traumatic memories, and show them how to reduce anxiety. Some sufferers of PTSD take antidepressant medications to reduce feelings of numbness, sadness, worry, and anger. Unfortunately, these medications often have side effects, such as drowsiness, sleeplessness, headache, agitation, nausea, and sexual issues.
Marijuana as a Treatment for PTSD?
Many studies have shown that the human endocannabinoid system contributes significantly to PTSD. Researchers have found that people with PTSD tend to have more cannabinoid type 1 (CB1) receptors available than do healthy or trauma-exposed controls. This suggests that the use of marijuana by people with PTSD may have an impact on symptoms, at least for the short-term.
The somewhat widespread understanding that marijuana health benefits for PTSD symptoms is attributed to anecdotal reports from individuals suffering from PTSD claiming that cannabis helps reduce or eliminate PTSD. Recently, many studies have provided more concrete evidence to support these anecdotal reports.
Studies have shown that oral CBD administration decreases anxiety in individuals with and without clinical anxiety. Based on the results of these studies, pharmaceutical companies have developed and tested CBD treatments for individuals suffering from social anxiety. The similarities between anxiety and PTSD led many to believe that CBD treatments will also prove to be effective for PTSD. One open trial involving 10 participants suffering from PTSD has shown that THC decreases hyperarousal symptoms and is safe. However, the sample size of this open trial was small, so the results do not necessarily indicate that THC will successfully treat the symptoms of most sufferers of PTSD.
Researchers believe that the effects of medical cannabis help PTSD patients deal with three major symptoms of their condition, which are hyperarousal, re-experiencing, and avoidance. In a study, the use of cannabis reduced PTSD symptoms in patients by 75 percent in comparison to when the patients were not using cannabis (Greer, Grob & Halberstadt, 2014).
Military veterans rely on cannabis to cope with the PTSD symptoms, which can include lack of stress tolerance and difficulties with emotional regulation (Potter, et al., 2011). Military veterans with more severe PTSD symptoms tend to use cannabis more to cope. Some PTSD patients use medical cannabis to improve sleep patterns and reduce the incidence of nightmares and insomnia (Bonn-Miller, Babson & Vandrey, 2014).
States That Have Approved Medical Marijuana for PTSD
As of July 2016, there are 14 states who have approved the use of medical cannabis specifically to treat PTSD treatments. These states are Arizona, Connecticut, Delaware, Hawaii, Illinois, Maine, Michigan, Nevada, New Mexico, Ohio, Oregon, Pennsylvania, Rhode Island, and Washington.
Other states allow the use of medical marijuana not just to treat PTSD, but also to treat other conditions. These states require or suggest that patients get a recommendation from their physician. California and Massachusetts are two examples of such states. In Washington D.C., medical marijuana can be used to treat any condition as long as the patient receives a recommendation from a physician licensed in D.C.
Many have long vouched for the effectiveness of medical marijuana for many conditions, including PTSD. However, the anecdotal reports of these individuals have long been disregarded. Fortunately, in light of the growing number of studies demonstrating the effectiveness of medical cannabis as a treatment for conditions, more and more states are legalizing medical marijuana.