76% of Doctors Support Medical Marijuana as an Alternative Treatment
Posted by Marijuana Doctors on 06/04/2013 in Medical Marijuana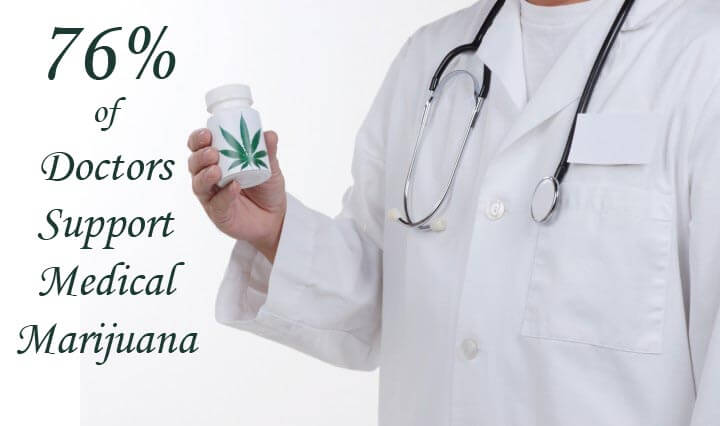 In a recent poll conducted, results showed that medical marijuana is approved and accepted by around seventy-six percent of physicians. This report comes according to a survey in one of the most prominent medical journals, the New England Journal of Medicine.
As propaganda spreads across the country that medical marijuana and marijuana legalization have resulted in an odd child safety danger, it is now stated that medical marijuana brownies and edibles need to be childproofed. Parents who use medical marijuana should put their edibles and medicine in a safe area and not in the way of children. However, I should not be repeating this because this should already be known, it is common knowledge.
According to New York Mayor Michael Bloomberg, medical marijuana is considered one of the greatest hoaxes of all time. Bloomberg has said he generally favors reducing penalties for marijuana possession in his city, but he is a clear opponent of outright legalization. However, it seems that Mayor Bloomberg's opinion on this issue may conflict with the majority of physicians across the country. It is evident that physicians across the country are part of minority percentage that Bloomberg cannot pay out of pocket to change their mind.
The physician survey that featured questions about medical marijuana included responses from nearly 1,500 physicians from over seventy-two different counties and provinces in North America. Physicians were asked if medical marijuana should be made readily available and given to an older individual who is suffering from cancer that has spread to the lungs, chest or spine. Nearly seventy-six percent of doctors supported the administering of medical marijuana to patients who would qualify under this condition.
It is no surprised that doctors around the country are beginning to understand the true medicinal benefits of this miracle plant. The ongoing support of medical marijuana by doctors has become specific to the United States based upon the specific state. Overall, at least fifty percent of doctors in each state have said they support medical marijuana. The only exception of this percentage comes in Utah, which had an exceptionally low one percent support level for medical marijuana.
Currently, medical marijuana is still considered illegal under federal law. However, nineteen states and the District of Columbia have allowed for physicians to recommend medical marijuana to patients who qualify within their respective state. Even the writers at the New England Journal of medicine were a little surprised by the results that they compiled. Although marijuana is still considered illegal, reform is on the horizon and in due time, patients will receive the compassionate medicine they deserve.