420-Friendly Breweries Beating The System
Posted by Marijuana Doctors on 07/25/2013 in Medical Marijuana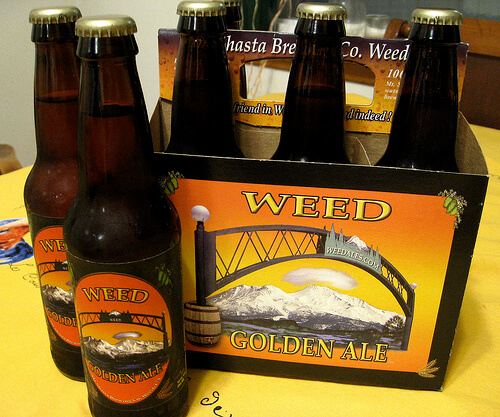 Of the 2,500 breweries in the nation, a handful of them have been drastically pushing the beer-branding boundaries. By incorporating marijuana slang and images into their branding efforts, several breweries have incited uproar among the Federal Alcohol and Tobacco Tax and Trade Bureau.
The TTB is subject to requisitioning an industry guidance document formerly written in 1994, forbiding weed references on alcohol labels when determining a proposed label's legitimacy. The document specifically states that,"drugs, drug terms or slang associated with drugs," are strictly forbidden in beer-labeling. A little bit further down, the document states, "We do not believe that responsible industry members should want or would want to portray their products in any socially unacceptable manner."
This statute poses a problem for Breweries such as Michigan-based Dark Horse Brewing Company, which has been hoping to expand their labels to brews sold in limited batches such as, "Smells Like Weed IPA." Naturally, the title was rejected by the TTB and was later renamed, by the Dark Horse Brewery, "Smells Like A Safety Meeting IPA." ("Safety meeting," for the non-smokers, is a slang term for a marijuana smoke break taken during a day at the job).
Redhook Ale Brewery, however, is soaring past this issue by choosing to only distribute their beer, "Joint Effort Hemp Ale," within the confines of Washington State. They're able to bypass the federal government because the issue with these brews is not mounted in distribution, but rather interstate commerce. Redhook's brand manager, Karmen Olson, stated that this particular brew is marketed to celebrate the past year's recreational cannabis legalization by state voters. Although words like, "joint" and "hemp" are highly opposed by the federal government, there is nothing unlawful about this beer.
A spokesman for the TTB said their authority to reject beer labels on "socially unacceptable" grounds is, "…based on well-established rights of the government to prevent consumer fraud." And the person responsible for approving all beer labels? Just one single TTB agent, said Hogue. In the past year alone, the agent has reviewed and approved nearly 14,000 individual beer label applications.
Drug references do not stand alone in unlawful beer labeling, however. Labels suggesting "positive health effects or unusual potency," are considered to be violations. Additionally, indecent or obscene representations on labels are seen as equally unlawful. Interestingly enough, since 1954, any pictorial designs or representations relative to or associated with the American flag on beer packaging have been rejected. Yet Budweiser, one of the most popular, highly grossing beers in America, clearly depicting stars and stripes in true patriotic red white and blue fashion, has been approved and defended by both the TTB and Anheuser-Busch as displaying a pattern which "depicts something other than the U.S. flag." Smells like an unequivocal double-standard.
Founder of Lagunitas Brewing Company in Petaluma, California, Tony Magee,has had a less than pristine reputation with the Federal authorities in the marijuana department. Back in 2005, state agents witnessed marijuana usage on the brewery's premises and shut it down for the following 20 days. Most recently, Lagunitas was denied a permit for their newly introduced ale, "The Kronik," referencing, of course, "chronic," a slang term for high-grade marijuana.
As a stab at the feds, the brewery went on to rename the beer, "Censored." Though Magee admits, when Kronik's branding was first rejected, they did push a little. "I told them 'Let me just ask you guys a question: What do you think Bud means? What about High Life?"
Still, Magee specifies, he has no ill-will towards the government for rejecting the initial branding. "It is what it is," Magee said. "The world is a place of enormous irony."
In a similar manner, Steve Lopas, co-owner of California-based Concord Ale Industries, named a recent brew, "Orange Shush," as a hats-off to federal censorship. The initial branding, "Orange Kush," named after a tangy citrus flavored Indica strain, didn't have much of a chance from the get-go. Although Lopas desperately wanted to keep the beer's initial label, he did not have the resources necessary to incite a battle with the federal government.
Brewer Vaunne Dillman, co-owner of Mount Shasta Brewing Company in Weed, California, on the other hand, fought the government's label rejection back in 2008. He was reprimanded for trying to market his "Weed Golden Ale," with bottle caps reading, "Try LEGAL Weed." However, with the help of the American Civil Liberties Union, Dillman presented the argument that the brew was named after the town of Weed, where it was brewed – the town itself, being named after the 19th century California lawmaker, Abner Weed. Dillman won. And he proudly referred to his brew's success as a time when, "Weed fought the law and Weed won."