2016: Which States Will Vote "YES" To Marijuana Legalization?
Posted by Marijuana Doctors on 10/08/2015 in Marijuana Politics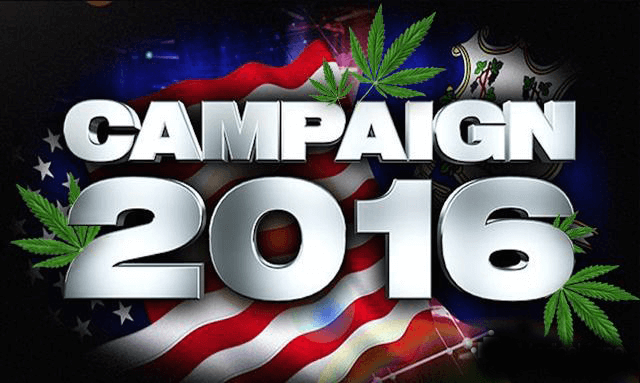 2016: Which States Will Vote "YES" To Marijuana Legalization?
As candidates battle their way forward to the finish line, and the 2016 Election creeps closer and closer with every day, campaigns across the country are working tirelessly at securing signatures to get marijuana legalization on the ballot in a number of states. And while it seems as though some states may have better chances than others, there may still be some significant changes in the days ahead that could still help other states catch up and join the ranks of Colorado, Washington, Alaska, and Oregon.
ARIZONA
Although Arizona has a much more conservative mentality than some of the other states pushing forward with legalization measures, supporters have filed all necessary paperwork and are aiming for a law modeled after Colorado's recreational approach. Sharing borders with both Mexico and two states that could also potentially end prohibition in 2016 – California and Nevada – Arizona is in a unique position to benefit from its location, while its location on the border could also likely lead to attempts to oppose the legalization measure.
CALIFORNIA
The first state to legalize medical marijuana in the United States of America already boasts one of the most robust medical marijuana markets in the world. And if California is able to pass legalization measures, then the entirety of the west coast would have achieved it's goal of putting an end to prohibition, while in turn creating the first marijuana Mecca of its kind. The most populous and demographically diverse state also represent one of the world's largest economies, and if legalized, will have a significant and far-reaching effect on the rest of the country.
MAINE
The northeastern bastion of Maine is another state poised to mount legalization efforts. Recent efforts amassed enough signatures to add momentum to the movement, while several cities across the state are seeking decriminalization efforts as well. "We have bigger fish to fry. There's violent crimes going on, there's property crimes, and that is where our police resources should be spent," David Boyer, Maine political director for the Marijuana Policy Project told a local news affiliate WCSH6
MASSACHUSETTS
"In 2016, Massachusetts will find itself in the crosshairs for cannabis reform," Allen St. Pierre, the executive director of NORML, told The Boston Globe.
The first state in the nation to legalize same-sex marriage, residents of the liberal New England state are now turning their attention to the next big battle: putting an end to marijuana prohibition. With the groundwork already underway, Massachusetts is preparing for a 2016 ballot initiative. The referendum has been filed and advocates are marching forward in the hope of legalizing marijuana  in Massachusetts.
MICHIGAN
Multiple efforts are underway in Michigan, and seem to be on schedule in gathering the necessary signatures, with the Michigan Cannabis Coalition reporting to have already gather 170,000 signatures. With the amount of effort underway in Michigan there is a likelihood that could possibly see two version of legalization on the ballot.
MISSOURI
Possibly the biggest surprise on the list of states seeking an end to prohibition, however Missouri may just end up with a marijuana legalization option on its 2016 ballot. Although the state tends to be more conservation than the west and northeastern states, there is still movement in the Show-Me state, and is working on securing 8% of voters in Missouri's eight congressional districts. "Opinions on marijuana legalization have been shifting for the past twenty years and dramatically so in just the past six to seven years," John Payne, executive director of Show-Me Cannabis told The Riverfront Times, who is one of the leaders pushing to get the measure on the 2016 ballot.
NEVADA
Nevada is another west coast state intent on not getting left behind as the entire west coast prepares to turn over a new leaf for marijuana legalization. Efforts are underway by members of the state legislature and resident advocates who have collected the signatures necessary for a 2016 ballot initiative. A local NBC affiliate, KSNV, reported that a new law would legalize marijuana use by adults over the age of 21, and allow for the possession of one ounce of dried flower, while further instituting a 15% wholesale tax, and funding K-12 education in the state. "If we do this right, this will be a major boom to tourism, which is our economy," said state senator Richard Segerblom.
OHIO
Ohio is set to vote on legalization in 2015, and could well become the fifth state to legalize marijuana. Although the intuitive is joined by another item on the ballot that would prevent the initiative fro becoming a law. Should both items pass, a legal battle will most likely ensue.
Which states do YOU think will pass legalization initiatives in 2016?