Over 1,000 Hopefuls Attend First Ever Cannabis Industry Job Fair
Posted by Marijuana Doctors on 04/26/2014 in Medical Marijuana Economics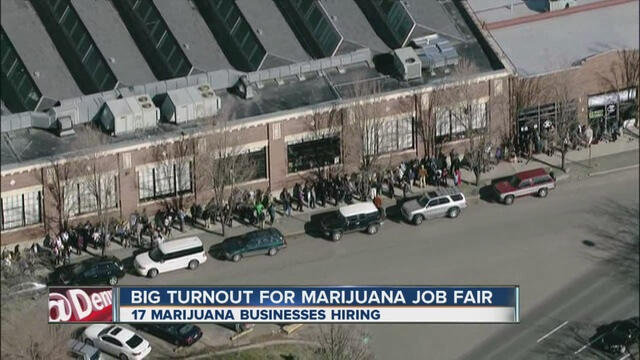 Just this past Thursday, the first ever job fair was held in Denver for a plethora of opportunities in the burgeoning marijuana industry. Due to the recent green rush with recreational marijuana being legalized in Colorado, this industry CannaSearch job fair sponsored by the O.penVAPE proudly featured 15 businesses in recreational marijuana sales and by the end of the day – job-seeking individuals were turned away due to the unpredicted high capacity of interested individuals. Positions from "budtenders to bookkeepers" were being promoted, as well as positions available in technology, advertising, accounting and selling marijuana itself. The job fair itself took place from 11 AM to 7 PM and an estimated 1,200 people showed up in windy weather conditions as hopeful employees of the cannaindustry at large.
Pete Vasquez, the general manager of Medicine Man, a recreational and medicinal marijuana dispensary located in Denver said of the job fair, "It's been great. We've had hundreds of people stop by the booth. I have stack of resumes right here in front of me, lots of cards given out. I'm sure we're going to find a great bunch of people to add to our company."
Owner of Hemp Temps, a cannabis industry staffing agency, Shannon Foreman reported that there was an absolutely overwhelming amount of individuals who stopped by her booth. "We fill positions based on what the need is," said Foreman. "Right now the need is outrageous, and we're trying to fill that."
For hours, individuals stood in a single file line stretching several blocks with resumes in hand. One St. Louis resident Shannon Irvin who has been unemployed for several months now, drove all the way to Denver hoping to become a part of the recently popularized industry. "With this type of industry and the way the money's coming in, this is the place to be right now," said Irvin.
Luke Ramirez, Co-owner of Walking Raven Wellness Center, a medical and newly recreational dispensary in Denver, reported that their sales have increased by 300 percent. Their traffic, he noted, increased by the same number. In fact, Ramirez said, Walking Raven really had no choice but to set up a booth at the job fair due to the company's recent expansion. "That's why we're here today. We actually need to hire more folks to help with that traffic and that added revenue," said Ramirez.
One Texas resident, 21 year-old Nelson Lopez took a last minute fourteen hour drive with his sister and a close family friend to get a closer understanding of the experience, and the industry at work. "I'm looking for an entry-level position," said Lopez. "But it's just being here. It's the first job fair ever for cannabis."
Some chose to come for the hospitality and business-related positions, others for general sales and some strictly for medically related positions. One Missouri resident Toni Chambers, located just outside of Kansas has expressed her strong desire to work for medical cannabis-related healthcare. Having previously worked as an in-home caretaker, Chambers reported that she's seen – firsthand the amazing benefits marijuana can provide. "I want to be able to take care of people that believe in this, and even people that don't – that think that it's a problem, that it's a drug – and show them that it's not. I believe in the medical use of this, very much," said Chambers.
Tim Cullen is a cannabis entrepenuer and co-owner of two cannabis dispensaries in Colorado. Additionally, he is a founding partner of a group currently hosting CannaSearch. The economic recovery made from recreational marijuana sales, Cullen believes, plays a gigantic role in CannaSearch's success. "But I also think it's a new frontier," Cullen noted. Currently, Cullen's company is already in the works of planning for the next Cannabis job fair. "Cannabis legalization in Colorado has gotten a lot of news, and there are people who are willing to relocate and come to Colorado to be a part of this."
In January alone, a reported fourteen million dollars were made strictly from revenue within the budding recreational marijuana industry. Todd Mitchum, the event organizer announced that though the job fair was the first of its kind, there will certainly be more in the future. "We're going to keep nurturing this industry and keep nurturing the environment so the job seeker has a place to go. Because people want to be a part of something."