10 Fast Facts about the Arizona Medical Marijuana Program
Posted by Marijuana Doctors on 02/22/2013 in Medical Marijuana Laws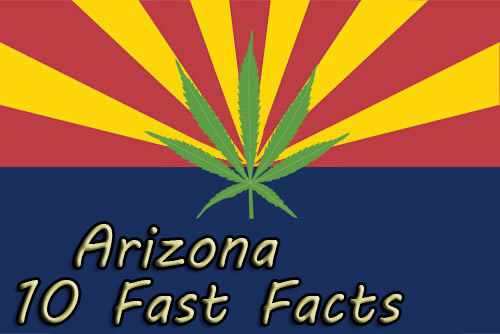 Arizona Medical Marijuana Program Fast Facts 2012
To obtain a medical marijuana card from a medical marijuana doctor in Arizona, applicants must be over the age of 18 with a valid state issued photo ID. Applicants must have a debilitating medical condition with valid medical records outlying their qualified condition.
Arizona became a medical marijuana state in 2010 when 50.13% of voters passed Proposition 203.
In Arizona there are 40,463 patients registered for medical marijuana.
Maricopa County is the largest medical marijuana county in Arizona with 18,001 patients. Second is Pima County with 3,480 patients.
To obtain a recommendation from an Arizona Marijuana Doctor, a patient must suffer from cancer, glaucoma, HIV/AIDS, Hepatitis C, ALS, Crohn's disease, Alzheimer's disease, cachexia or wasting syndrome, severe and chronic pain, severe nausea, seizures, epilepsy, severe or persistent muscle spasms and multiple sclerosis.
The cost to apply for a Arizona Marijuana Card is $150, however the fee may be reduced to $75 if applicants can demonstrate need based on income.
Patients with a Arizona Marijuana Card may possess up to 2.5 ounces in an 14-day period. Patients who live more than 25 miles from a dispensary may cultivate up to 12 cannabis plants.
The state of Arizona is estimated to earn nearly $50 million from fees and taxes from the medical marijuana program.
Severe and Chronic pain is cited as the leading medical need with 19,631 patients.
Arizona's Medical Marijuana program is demographically split as 73% male and 27% female.
Arizona Doctors of Naturopathic Medicine are the leading physicians that certify for medical cannabis.
Other Articles by Pete Fuzzie Genkins
-->

Are You A Doctor?
Sign Up For Our Newsletter