Dr. Joseph Rosado, MD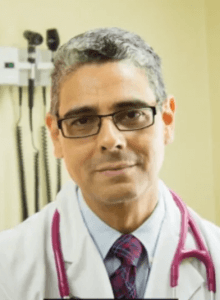 Dr. Joseph Rosado is an experienced physician who specializes in Physical Therapy & Alternative Addiction Therapy/Management. After graduating cum laude from Life College with a BS in Clinical Nutrition, Dr. Rosado obtained his Doctor of Chiropractic degree and suma cum laude from Universidad Central del Este in San Pedro de Macoris with his Medical degree. Originally from the Bronx borough in New York, Dr. Rosado moved down to Central Florida starting as an EMT & Paramedic. After working as the Clinic Director in Salt Lake City, UT, the team physician for the Costa Rican Institute of Recreation & Sports and as a staff physician at Hospital Metropolitano in San Juan, PR., Dr. Rosado moved on to become the Medical Director at Tricounty Hospital in Williston, FL. Between private practices and state facilities throughout Florida, Dr. Rosado has been able to assist patients and change lives throughout his illustrious medical career.
Dr. Rosado recognized the potential of Medical Cannabis early on, joining the bureau of speakers for the United For Care (Amendment 2) Campaign in 2014 & 2015.  After Amendment 2 was approved in the state of Florida, Dr. Rosado was certified by both the Florida Physicians Cannabis Course & the Florida Cannabis Medical Directors Course. Dr. Rosado was the first physician to recommend high CBD:low THC to an adult patient with Stage 3 Brain Cancer in the greater Central Florida region in the summer of 2016 and the by the fall of the same year, the first physician to recommend Medical Cannabis (THC:CBD 1:1) to a terminally ill pediatric patient. Presently, Dr. Rosado is practicing in Ormond Beach, FL as the Medical Director of Coastal Wellness Centers, is a Diplomat of the American Academy of Cannabinoid Medicine and volunteers once a month at Shepherd's Hope Community Clinics.